Discover more from Victory Briefs
Debate news, resources, and discussion by Victory Briefs
Over 11,000 subscribers
Sam Bonham Explains the Value of VBI PF
My name is Sam Bonham, and I have been involved in Public Forum debate at Southlake Carroll Senior High School for the last 4 years. I attended several other debate camps prior to VBI, but Victory Briefs was the most influential on my career, and I can directly attest to the quality of instruction and value of the habits they instill.
The rigorous curriculum coupled with the instructors' expertise made for a very challenging experience. There was ample time to practice and drill with some of the best debaters to have competed on the PF circuit. The attention was such that I was working very closely with debaters that I had watched in late our rounds at every national tournament of the season. At no other camp do you work with instructors who coached a TOC closeout, won the International Public Policy Forum, and accumulated upwards of 60 bids on a variety of different circuits.
I learned the most from the mentor program. As a camper, you are assigned to a mentor, who will meet with you one on one on a regular basis for the duration of the camp. This system gives you a unique opportunity to share argument ideas, strategy considerations, and anything that's on your mind during VBI. My partner and I generated some of our best ideas during brainstorming sessions with our mentors.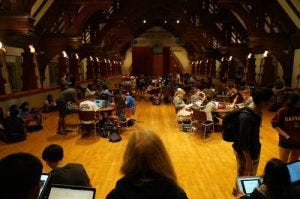 Socrates Hour at VBI Swarthmore
At Socrates Hour, which is unique to VBI, every instructor gathers in a  common area at the end of the day to answer any question that a camper  may have had during the day's instruction.  It allowed for instructors that  campers might not have interacted with regularly to share their expertise  and created a system in which nobody was scared to speak out and share  their thoughts. I remember being stuck for a few days on what strategy we  wanted to go with for the Con case we were writing on the probable cause  topic. After picking lab leaders and other staffers' brains for their ideas on  the resolution, Kyle Chong and others helped us think of the case idea that secured us victory at the camp tournament, and multiple bids to the  TOC during the months of September and October.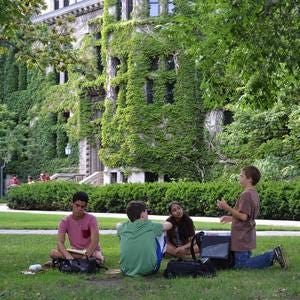 The instructors at camp went beyond what they were required to do in order to ensure that we'd improved the most we could over the course of camp. They judged and even competed in practice rounds after hours, meaning that you could debate with some of the best college-aged talent in the country. This gave me a first-hand look into what it's like to not only debate with someone who wasn't my regular partner, but someone who has new ideas and new ways of articulating the arguments that I had written. After watching the semifinals of the TOC not 3 months prior to camp, I gained a lot of admiration for a number of staffers who had been very successful on the national circuit. At VBI, I debated rounds with them as my teammates, which was really a surreal experience. It gave me a new perspective on debate because I had only competed with my regular partner up to that point.
"The rigorous curriculum coupled with the instructors' expertise made for a very challenging experience. There was ample time to practice and drill with some of the best debaters to have competed on the PF circuit." - Sam Bonham
The lab system at VBI was also top notch. The curriculum was designed to push our buttons. I found it frustrating that our lab leaders made it easy for our peers to prep out our cases, but I used that frustration as motivation, which translated into more prep. We were honestly more ready to debate the camp topic than any topic in the past. Top talent should absolutely attend VBI. VBI is still innovating and making strides to improve the experience for campers year after year. Many camps get stuck in the same traditional curricular routine (where lectures play a featured role) and there is limited individualized assistance. The opposite is true of VBI. In my time as a camper I felt as if the instructors got to know me well enough that they could tailor the lessons and instruction to my specific needs. After learning the basics, the nation's top talent can really benefit from learning more about the complex nuances of debate, and in my experience, VBI communicates those lessons best. VBI is not for the faint of heart. The work is intense, the hours are long, and the instructors have high expectations. For students who really want to see their debating skills improve, this is definitely the place to be. More information about VBI including staff, dates, and curriculum details available here.