Discover more from Victory Briefs
Debate news, resources, and discussion by Victory Briefs
Over 11,000 subscribers
Victor says farewell, Chris and Jake take the helm of Victory Briefs
Read Victor's and Chris and Jake's letters to the debate community. 
From Victor: 
VBI 2002
It's hard to believe that it has been 25 years since I founded Victory Briefs as a freshman at Stanford University in 1989.  There have been challenges, hiatuses, and triumphs, and I am very proud of the thousands upon thousands of debaters that have helped make Victory Briefs what it has become and the role the organization has played in the debate community.  It is with mixed emotions that I announce that it is now time for me to say farewell to Victory Briefs.
There are too many people to thank so this list will not be complete.  But I do have to give specific thanks to my prior co-owners, Bob Hohman, Chad and Stephanie Kahl, and Chad Ho.  I also have to thank the people who made Victory Briefs their full-time jobs, Zack Krevor, Kyle Castelo, Chris McFarlane, Michelin Massey, Mike Bietz, and Conor Moriarty.  I have to thank the many, many national champions who gave us credibility as an organization, including Thomas Marlowe, Jay Steed, Stephen Davis, Adam Preiss, Oscar Shine, Adam Chilton, Jed Glickstein, Tara Tedrow, Douglas Jeffers, Taarini Vohra, Todd Liipfert, Shivani Vohra, Ben Sprung-Keyser, Josh Roberts, Laith Shakir, Lawrence Zhou, Ann Miura, Seamus Donovan, Andrew Garvin, John McNeil, Chris Theis, Catherine Tarsney, Noah Starr, Rebecca Kuang, and Danny DeBois.  I also have to thank the directors who have shaped the Victory Briefs vision over the years, including Mike Bietz, Jon Cruz, Tommy Clancy, Josh Anderson, Joe Vaughan, Jennie Savage, Stephen Babb, Neil Conrad, Jake Nebel, Catherine Tarsney, Christian Tarsney, Drew Hammond, Adam Torson, Chris Theis, and many others.  And I will continue to thank many more people, albeit in a more personal manner.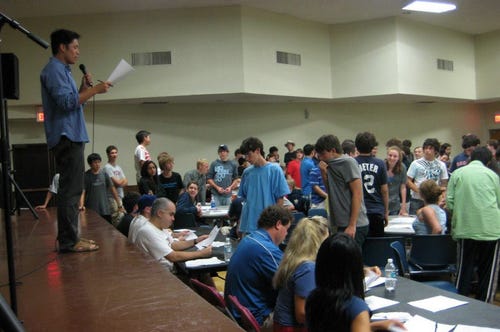 Pub Quiz VBI 2008
Thankfully, my departure does not mean the end of Victory Briefs.  I am thrilled to say that Victory Briefs will be owned & managed by Chris Theis and Jake Nebel, who, along with Mike Bietz, will steer the organization into the next generation.  It's beyond time for me to hand the torch to them, since in many ways they have been the ones that make Victory Briefs what it is today.  For our many fans and supporters, thank you, and I am confident the transition will be seamless and for the better.  And I will certainly remain in the community as I continue to coach Brentwood and I look forward to being a continued supporter of Victory Briefs.
Yours truly,
Victor Jih
---
From Jake & Chris:
Lab mates, VBI 2008
We are incredibly grateful to Victor for his leadership of Victory Briefs, his service to the debate community, and for being a role model to us and so many other debaters. His legacy at Victory Briefs is remarkable: creating the largest and most successful LD camp in the country, the most widely distributed series of debate briefs and textbooks, and most importantly, a family that brings together students from all over the nation. We are also indebted to Mike Bietz, who mentored us as curriculum directors and is a thought leader in our community; we are excited to have Bietz on board.
Briefs for the new topic will be released within ten days of the topic announcement. We are confident that these will be the best briefs you've ever seen, with contributions from an all-star cast of debate minds. The link to order briefs can be found here.
Rest assured, the Victory Briefs Institute will continue and it will be better than ever! Stay tuned for announcements about our staff, location, and dates.
Chris, Catherine & Jake: Curriculum Directors VBI 2013
As students, lab leaders, and curriculum directors, we've learned what makes Victory Briefs successful and have the drive to grow the company to its fullest potential. To that end, we have lots of new features, improvements, and resources in mind—but we will always be Victory Briefs.
When the two of us first arrived at VBI as roommates in 2007, we would have never thought that someday we would have the incredible opportunity to lead Victory Briefs. Our most impactful educational experiences and achievements were made possible by the Victory Briefs family, and we are excited to continue providing high-quality products to the next generation of debaters.
Welcome to the family. Chris Theis & Jake Nebel