Discover more from Victory Briefs
Debate news, resources, and discussion by Victory Briefs
Over 11,000 subscribers
VBI Family: Interview with Todd Liipfert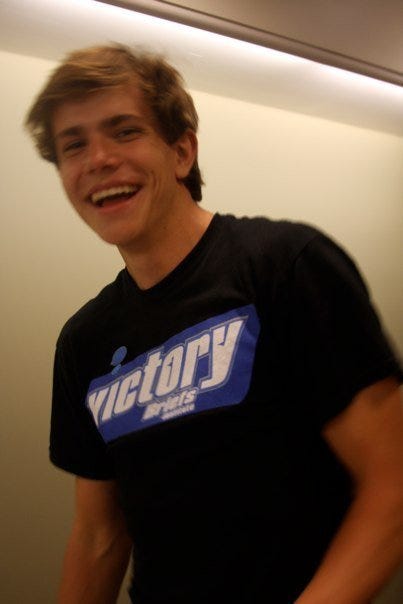 Todd Liipfert is a finance associate at The Executive Centre, and currently works in operations and expansion in Hong Kong. He graduated from Georgetown University in 2012 with a BA in Political Science and Government, where he was president of the Delta Phi Epsilon Professional Foreign Service Fraternity. He has worked as an assistant coach for Walt Whitman in Maryland and Strake Jesuit in Texas. In high school, he debated for four years at Strake Jesuit and was the champion of the 2008 NFL National Tournament. He attended VBI as a student for three years from 2005-2007, and returned as an instructor every year from 2008-2011. 
You were the NFL Nationals Champion in 2008! How did it feel when you realized you had won?
It's still a fairly hard feeling to describe. I was overjoyed to have won. Nationals is such a struggle because there are so many good debaters competing over a long week. It wasn't until at least getting off the stage that friends started to poke fun at things I had said when I got a little carried away with impacting or wasn't paying total attention in CX. Overall, it was an extremely exciting way to punctuate the end of my high school time while with my best friends in Las Vegas after we had graduated.
The NFL National Championships and the TOC are two very different tournaments. What kind of preparation did you do leading up to NFLs, and how was it different from your TOC prep?
For both TOC and NFLs, I was lucky to have two teammates preparing for the tournament alongside of me. This meant that we were able to do lots of practice rounds and bounce ideas off of each other without annoying someone who wasn't involved in the tournament and it was incredibly helpful. 
For NFL in particular, we did spent some time looking over studies and opinions for evidence, but the majority of time was probably when Mr. Crist (our coach) had us debate each other in front of teachers from our school or even his classes during summer school. This both helped us to craft and simplify our messages and understand when we were being perhaps too debatey to make much sense. 
Tell us about your work as a finance associate at the Executive Centre! What do you do, and do you think skills you learned from debate have helped you? 
Working in corporate finance is a great fit for me. My work focuses largely on working with numbers and doing a lot of analysis of both past performance as well as potential for expansion of our business. It took a bit of reflection to initially think of the skills from debate that contribute to this job, but now having thought of them, it's hard to imagine how they weren't immediately clear. I say that meaning only that debate has influenced so much of how I think and what I do on a daily basis that it is hard to separate out particular pieces.
The two most important skills from debate that I use every day are the ability to read and interpret data for patterns and writing skills. The ability to read and interpret data is something that I have to do on a daily basis and is something that I learned a lot about both at VBI and from my coaches in high school. Spotting trends, looking for significant outcomes, understanding the relationship between independent and dependent variables within a model, and data driven thinking are all important skills the debate forces you to master when you compete. Writing, clearly, is something that is an inescapable part of almost any profession. Understanding big ideas, numbers, and models only matters to the degree that you can explain it succinctly and persuasively to someone unfamiliar with the data.
How are you enjoying working in Hong Kong? What is your favorite thing about being overseas? 
I love working in Hong Kong. It's an incredibly fun and international place to live that offers me the ability to travel quite a bit, meet all sorts of new people, and gets me a bit out of my comfort zone, which are all things that are important to me. I did spend five years in elementary school in Hong Kong, so I do know the lay of the land a bit. My favorite thing about being overseas is the balance you strike between things you miss and love about home and new things from abroad that you like better.
Do you think debate has influenced your interest in cross-cultural relations? 
Having lived abroad when I was young, I was probably always going to be interested in international stuff, but I think that debate helped me to develop that interest and gave me important tools to increase my understanding of those relations.
Where do you see yourself working in five years? 
My plan is to be in Hong Kong for at least the next three. Beyond that, I have no particular plans to move back to the States or stay in Hong Kong. I'll just have to see where I am and what I want when I get there. I'm pretty happy here for now and see little reason that would change moving forward.
What is your favorite memory from teaching at VBI?
After teaching for so long, there are more than a few. One of them definitely is watching Doug Jeffers and Ryan Cooper run the concession stand at LMU. Another has to do with a certain student who has become a VBI correspondent and now goes to Georgetown being forced to do a speaking drill balancing on one leg and flapping her arms with a pen in her mouth. You know: to focus. The last I'll share is when I was thinking of what to say in a closing speech at VBI, John Lewis advised me "Whatever you do Todd, do NOT be yourself." Thanks John.
What is one unforgettable thing you learned at VBI as a student? 
That what you say in debate matters. For 13 minutes in each round, your judge and your opponent (at least) are listening to every word that comes out of your mouth. Talk about things that you really care about. They'll listen.
If you could give one piece of debate-related advice to your sophomore self, what would it be?
Don't turn yourself in finals at Apple Valley. 
If I could give a second, it would be to focus more on weighing. It's really hard to comprehend as a debater and shockingly easy as a judge just how important focusing your time on argument comparison, weighing, and decision calculus is. In many cases, just saying the word "outweigh" is enough to get your judge to perk up enough in the middle of a long tournament to give you the edge in a close round.