Discover more from Victory Briefs
Debate news, resources, and discussion by Victory Briefs
Over 11,000 subscribers
Where to Get Your Grub During Emory's Barkley Forum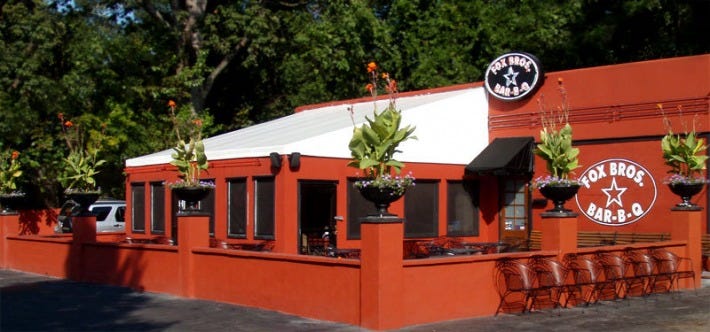 Forget about what the Barkley Forum schedule will permit. The food in Atlanta is worth making time for, and you'll want to hit up at least a couple of these places. Of course the South has cuisine that precedes itself, but Atlanta is more than just a giant stereotype. There's a little something for everyone, and a little extra something for the ones who really like BBQ.
Besides being a veteran of the Emory tournament, I lived in Atlanta for over two years and the food was one of the main attractions. Apologies in advance to vegetarians. I can only reassure you that most places serve fried green tomatoes.
Here's a little tour through the best of what's around the ATL. I'd encourage you to look these places up on Urban Spoon to do your own due diligence.
Best BBQ
Skip Fatt Matt's Rib Shack if you want real Q. The real Q can be found at a couple of places. The most famous and arguably most consistent is Fox Bro's. The ribs are outstanding, and there are lots of conventional Southern sides from which to chose. The other place not to be missed is Community Q, which is just five minutes from the Emory Campus. The sandwiches are delicious and generous, and the macaroni & cheese is flat-out amazing. It's as rich as it gets. The ribs may be even better than at Fox Bro's.
Burgers
There are a lot of good burgers in Atlanta.
In Decatur, you'll find a dandy farm-to-table establishment called Farm Burger. It's grass-fed beef, and you can taste the difference. Lots of interesting toppings to work with and some adult-milkshakes for coaches that shan't be missed. It's not a long drive from Emory, and there are several other nearby establishments if anyone wants to opt out of the burger-fest.
Some locals are known to frequent the nearby George's or Vortex, but I'd drive an extra 10 minutes to try Flip Burger Boutique for some slightly fancier fare. The burgers aren't enormous, but they're more interesting than your average attempt, and most importantly they're very tasty. There's also a creative array of milkshakes. Your bill will be a little bit steeper, but it's worth it. Treat yourself.
Seafood
There are a couple of excellent seafood options near Emory. The better (and more expensive) option is Goin' Coastal, where the lobster Mac & Cheese alone is worth the bill. Everything is fresh and delicious. If you're on a tighter budget, check out Fontaine's Oyster House just next door. It definitely has more of a bar feel, but there's all sorts of good cajun stuff on the menu, including some mighty fine Po Boys.
Fancy Southern
Yes, there's such a thing as "fancy Southern." If you can make time for a short trip to Midtown, check out South City Midtown Kitchen. The only reason you need is that I saw Usher there! But if you need more than celebrity sightings to persuade you, then consider the fried chicken. Served with mashed potatoes and collard greens, this tender (and juicy) knife-and-fork fried chicken is some of the best you'll find anywhere. The she-crab soup is also exquisite.
Ambience
It's rare that debate trips require a romantic dinner, but when they do—I'm your man. Check out  JCT Kitchen for an unparalleled view of the Atlanta skyline (better at night). Like South City Midtown, JCT has updated, gourmet Southern food that makes you feel like you visited Atlanta without leaving the chic comfort of your favorite establishment back home. Don't skip dessert. The coconut cake is out of this world, regardless of how you feel about coconut.
Nearby Emory
Nice as it is to get away from the tournament for a while, we all know that isn't always the most realistic option. Here are a handful of additional places that are all five minutes from the Emory campus. I still recommend making time for a special outing, but that's not always feasible—especially in Atlanta traffic. In any event, each of these places is at least unique to Atlanta. You can pick up Chipotle anywhere.
- Murphy's. One of my very favorite places to go once upon a time. If you swing by (or pick food up) during lunch, don't miss the brisket sandwich. It's not smoked and therefore doesn't really replace the need for BBQ, but it's extremely good. The tollhouse pie and banana pudding are both legendary, so stop by for dessert if nothing else. 
- La Fonda. The paella is outstanding at this small Cuban chain, and the Cuban sandwiches are top-notch as well. Most importantly, there are free chips and salsa (as there should be).
- Golden Buddha. Ordering Chinese food is a nice way to eat conveniently without settling for fast food. This place is very close, and it's definitely above average.
Things to Try One Way or the Other
If you don't have Chick-fil-A back home, trying some where it all started is virtually a requirement. The political side-show aside, these are some very good chicken sandwiches/nuggets/tenders. Whatever you eat, get some Chick-fil-A sauce to go along with it.
Finally, find the time to sit down somewhere and try some shrimp and grits. I'd never had shrimp and grits before moving to the ATL, and after I left they were all I could think about. You'll find them at a number of places (including at a few on this list), and they're worth seeking out. It's the perfect marriage of seafood and the South.
If you're looking for anything in particular or have any questions, I'd seriously love to talk about food with you. Add me on Facebook or email me at: stephensbabb@gmail.com.