Discover more from Victory Briefs
Debate news, resources, and discussion by Victory Briefs
Over 11,000 subscribers
Faculty Focus: Michael O'Krent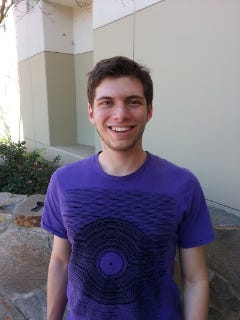 Faculty Focus: Michael O'Krent
In our third "Faculty Focus" of the year, we're taking a closer look at another one of our first year instructors, Michael O'Krent. This spring he will graduate from the Harvard-Westlake School, in Los Angeles, CA.   Michael has attended VBI for a total of 15 weeks over the past four summers, making 2014 his fifth year at VBI.
Michael said that he chose to return to VBI this summer by saying that,  "I've had such a great time at VBI over the past few years that I couldn't help but want to come back.  I've learned so much at VBI, and I want to help younger students have similarly awesome experiences."
"VBI provides a simultaneously relaxed and intense atmosphere that I've found great not only for learning but also for making great friends.  The friendly staff and students have always made sure that I felt comfortable and among friends.  UCLA's accessible campus and great summer weather have only added to my experiences at VBI. Simply put, VBI is the only camp where I could be reading articles with friends, and then drop everything and play a massive camp-wide game of capture the flag, and then pick up working again on a dime."
Michael said this about what he is excited to teach at VBI: "Logic is a key tool for understanding, analyzing, and refuting arguments, but debate curricula usually do not take a formal logical approach to argumentation.  Thinking about arguments in terms of axioms and axiom systems, premises and conclusions, rules of inference and logical fallacies has been tremendously helpful not only in debate but also in every academic pursuit.  I want to teach students how to think critically and rigorously about arguments by introducing them to the principles and methods of formal logic and working on debate applications.
I'm also excited about teaching kritiks and more critical and Continental philosophy than a traditional philosophy curriculum might emphasize.  I've had a lot of success running kritiks and philosophy that goes beyond the standard Analytic toolbox, I really enjoy researching and running these kinds of arguments, and I want to share that enjoyment with others who might have read more Kant than Foucault or run more counterplans than alternatives."
Michael will graduate from Harvard-Westlake School in June 2014.  He has debated for six years and competed in Lincoln-Douglas for four years at Harvard-Westlake school, qualifying to the TOC his sophomore, junior, and senior year.  While debating for Harvard-Westlake, Michael has achieved a career total of seven bids, clearing at multiple major national tournaments including Harvard, Stanford, Blake, the NDCA Championships, Berkeley, USC, and appearing in finals of St. Mark's and Meadows as a junior.